Kerala Ayurveda Kumkumadi Oil - 30ml
Kerala Ayurveda Kumkumadi Oil - 30ml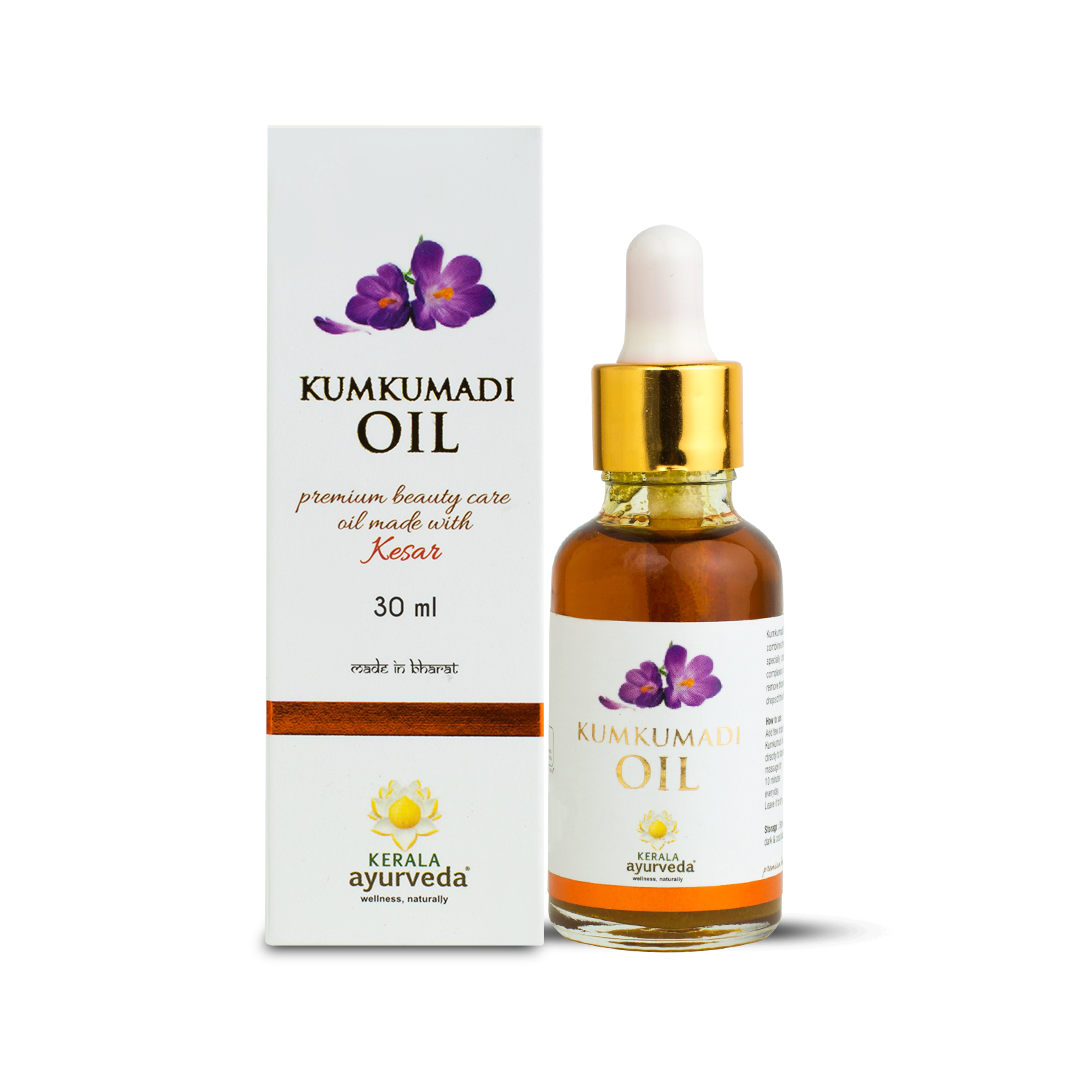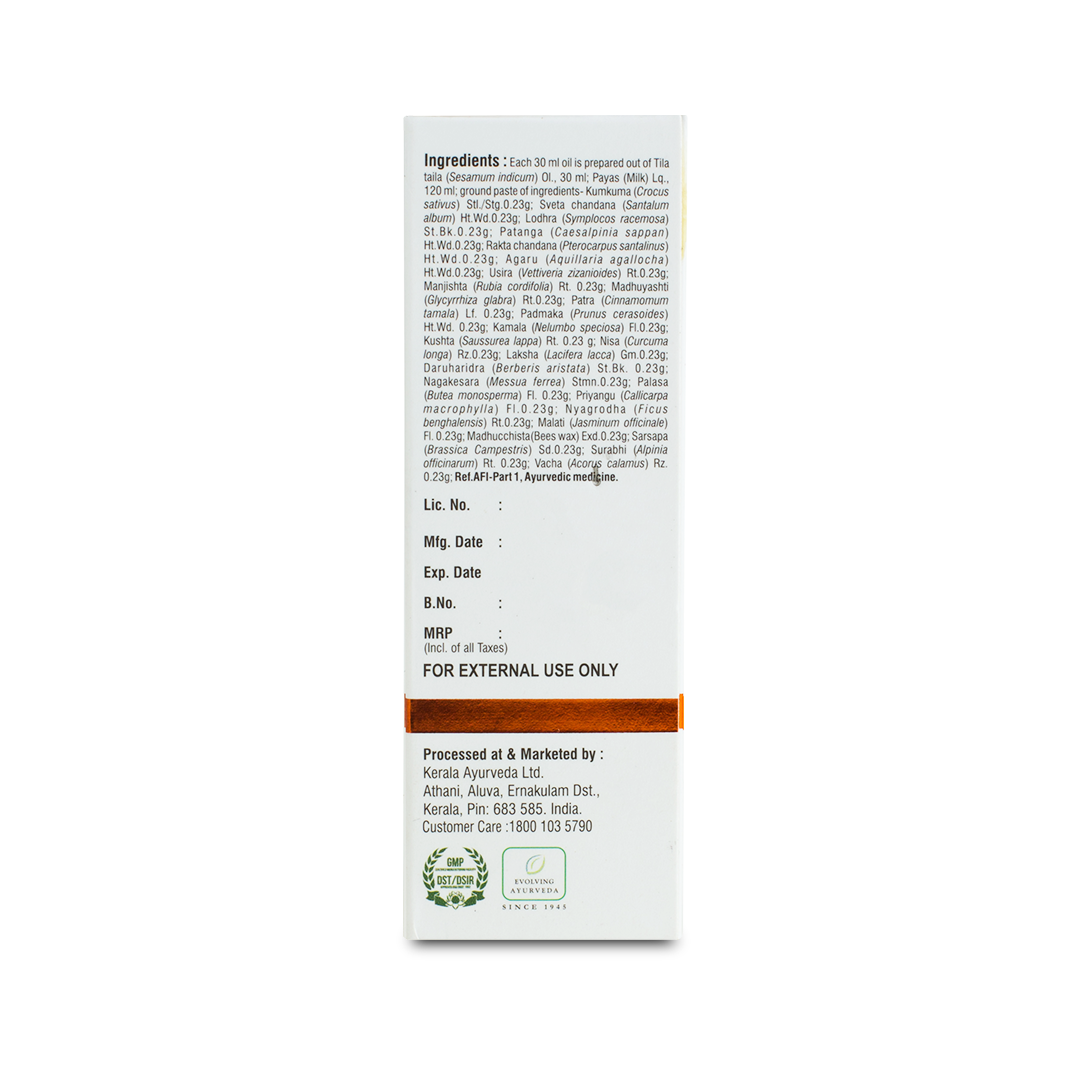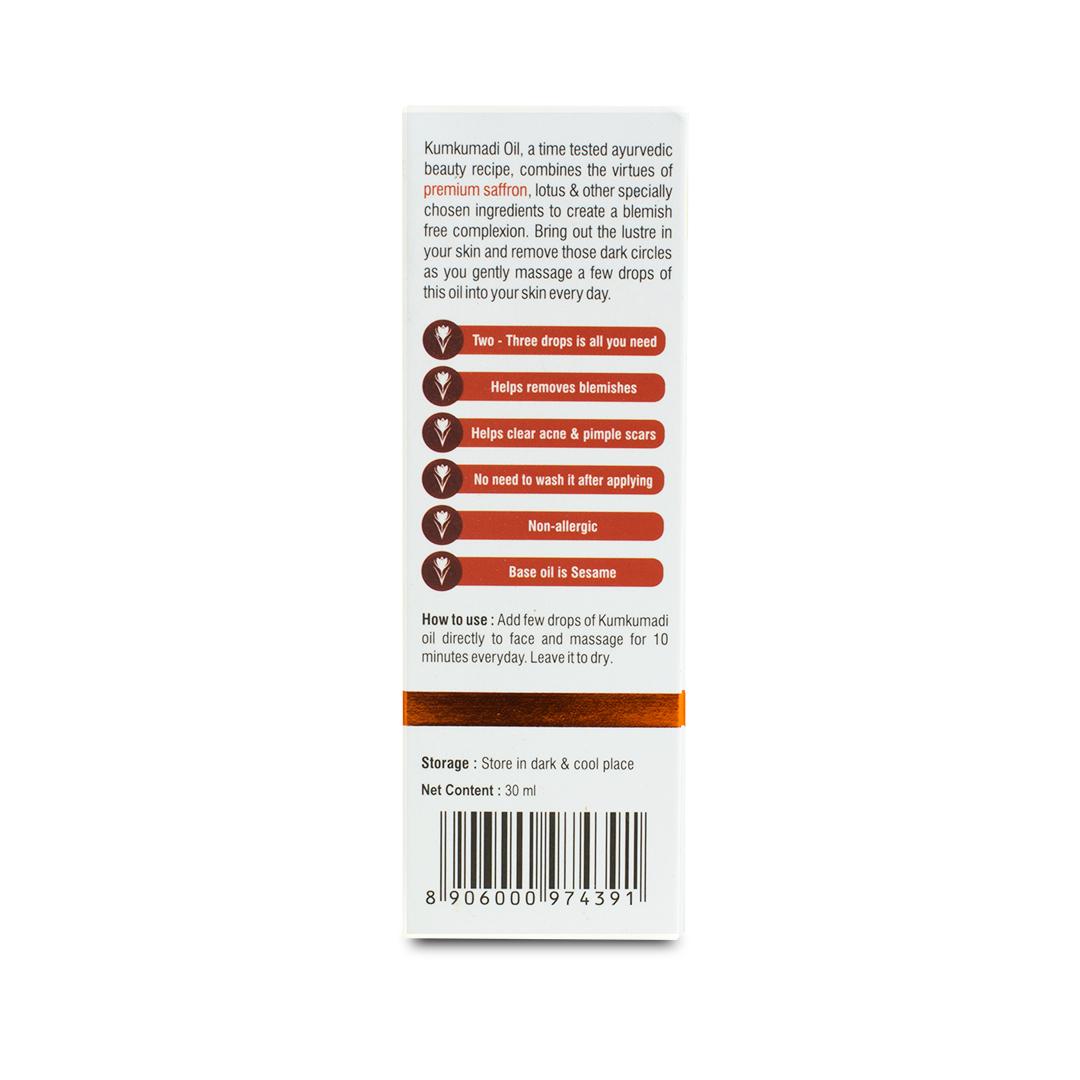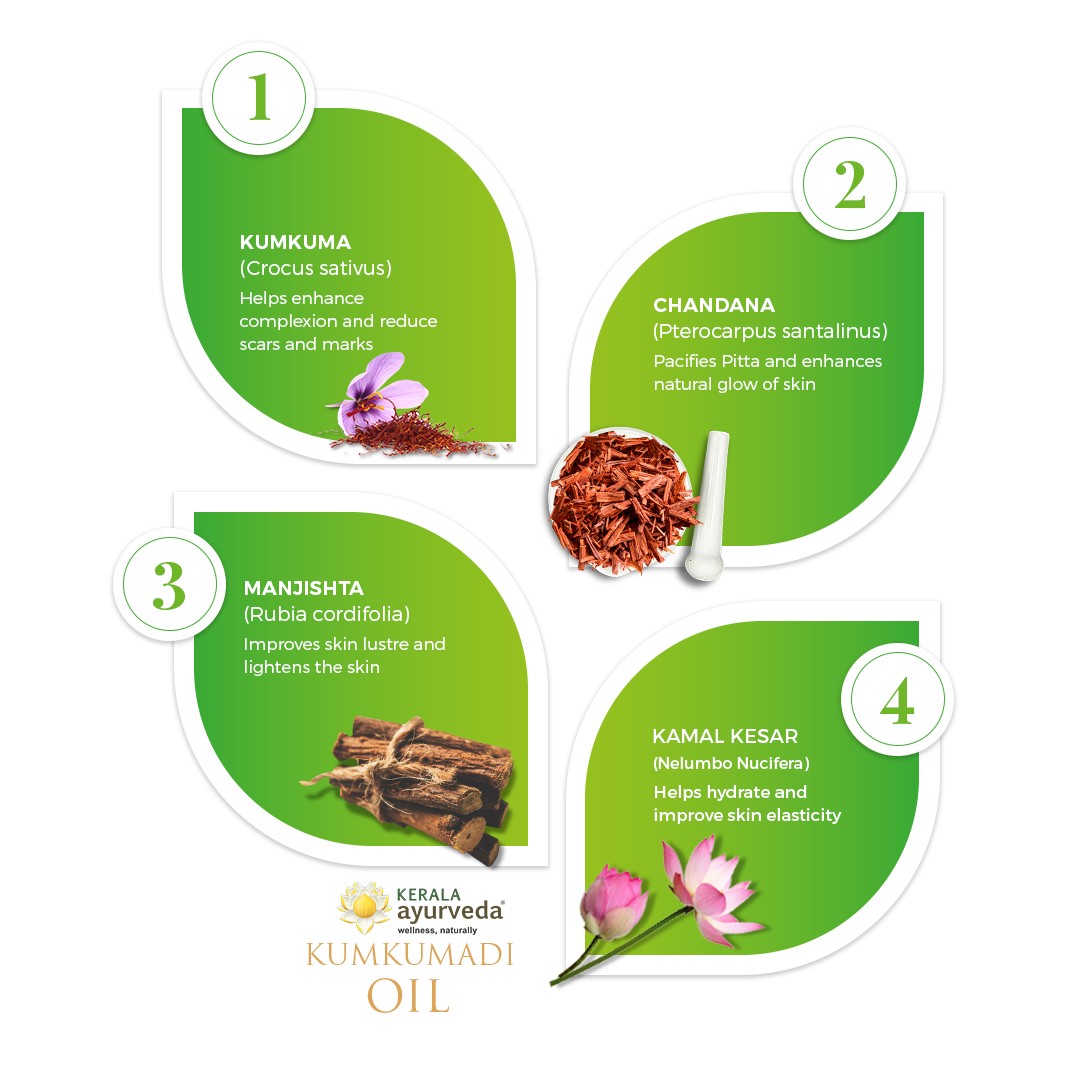 Roll over the image to zoom in
A bit expensive, but very useful in ehancing the brightness of the face.
KERALA AYURVEDA
A healthy glowing skin is what everyone desires. It is a universal desire to look good and healthy skin can help make your dream a reality. There are many cosmetic products in the market that promise good looking skin but the problem is that most of these products use harmful chemicals and can cause allergic reactions in the long run. Some ingredients like parabens are even believed to cause cancer. It is no wonder that people today prefer chemical-free and natural beauty products. One such product for the skin is Kumkumadi Oil. Kumkumadi Oil for face and skin is an Ayurvedic formulation using traditional ingredients that are known to be highly beneficial for the complexion of the skin. The ingredients used in the formulation are known to help brighten the skin improve complexion texture and glow as well as minimize scars and acne. The key ingredient in the Kumkumadi Tailam is the kumkum flower which is known as saffron. It is blended with other skincare ingredients that greatly benefit the skin and make this an ideal addition to your skincare routine. Kumkumadi oil is an all-rounder oil to clean your skin completely and maintain the complexion for a long time. According to Ayurveda Kumkumadi oil is a wonderful elixir possessing all the necessary properties to help your body get rid of impurities both internally and externally.
Send to a friend
Recommend this to a friend by entering their email address in the box below.
How to Use Kumkumadi Oil
This highly recommended oil can be applied on clean skin and gently massage upwards. After massaging Kumkumadi Oil for at least ten minutes, it must be allowed to dry before washing it off. Benefits of the Kumkumadi Oil are best experienced with daily usage.
Kumkumadi Tailam/Oil Uses And Key Features
The Kumkumadi Oil makes it a highly useful natural cosmetic product that can help nourish the skin. The Kumkumadi Face Oil, when used regularly, can help in making the skin healthy, radiant, and soft. Some of the features of this oil include:
A natural solution for overall skin health
Evens skin tone
Moisturises skin and dry patches
Enhances quality of the skin
Supports graceful aging benefits
Kumkumadi Oil/Tailam Ingredients
Yashtimadhu (Glycyrrhiza glabra), Licorice or Mulethi is a common ingredient in Indian kitchens
Great for sensitive skin, Helps the skin sustain natural brightness, This is one among the group of 10 herbs called the Jeevaneeya Gana (10 herbs) that help your skin age in a natural and graceful way, It is also a part of the Varnya group of herbs that are good for the skin
Yashtimadhu is one of the Ayurvedic ingredients that is believed to be especially good at reducing Pitta imbalance.
It is a Kandhugna herb that helps soothe irritated skin. It pacifies the aggravated Pitta and Vata Dosha. Lal Chandan (Pterocarpus Santalinus), Red sandalwood, Possess antibacterial properties, Moisturizes dry skin, Soothes sunburn, It helps optimise the Kapha and Pitta Doshas, It has a cooling effect that helps soothe conditions such as skin irritation and sunburn, It is used traditionally to achieve a glowing complexion, 
Kumkum (Crocus sativus)
Saffron is a traditional ingredient in both food and skincare that is said to help in the natural ageing process.
Improves skin radiance
Naturally brightens your skin
Gives a luminous complexion
It is a traditional home remedy for glowing skin and complexion. 
It supports the three Doshas
Kamal Kesar (Nelumbo Nucifera)
Hydrates and supports natural skin elasticity
Soothes irritated skin
It enhances the natural brightness of the skin  
Manjistha (Rubia cordifolia) Manjistha is also known as Indian madder. It is one of the well-known Ayurvedic herbs used to treat skin diseases. It helps to purify the blood and hence can help cleanse your skin. It helps bring Pitta and Kapha doshas to their optimal levels. It is categorized as a Varnya, a herb that can help maintain healthy skin tone and complexion. It helps to improve skin health.
Sweta Chandana (Santalum album): Sweta Chandana is also known as Sandalwood. The oil extracted from the sandalwood tree is aromatic and is used to prepare cosmetic products. It is helpful in improving skin complexion. It is used to soothe irritated the skin. It can help in detoxifying blood, which can be helpful in improving skin health. It is a coolant herb. It helps keep a check at the optimal levels of Pitta and Kapha doshas
Nisha (Curcuma longa): Nisha is also commonly known as turmeric, a well-known spice. It helps to improve blood circulation and thus nourishes the skin. It helps maintain the accurate levels of all the three doshas. It supports normal skin complexion
Limitations : Please note that for any product shipped internationally, any manufacturer warranty may not be valid; manufacturer service options may not be available; product manuals, instructions, and safety warnings may not be in destination country languages; the products (and accompanying materials) may not be designed in accordance with destination country standards, specifications, and labeling requirements; and the products may not conform to destination country voltage and other electrical standards (requiring use of an adapter or converter if appropriate). The recipient is responsible for assuring that the product can be lawfully imported to the destination country. When ordering from Urban Tokri or its affiliates, the recipient is the importer of record and must comply with all laws and regulations of the destination country. All Products listed on Urban Tokri are subject to export/trade regulations.
Quality checked and Safely Despatched in 7-8 days
Disclaimer: The product is guaranteed to be 100% genuine. Product images are for illustrative purposes only. Images/packaging/ labels may vary from time to time due to changes made by the manufacturer's manufacturing batch and location. The product description is for information purposes only and may contain additional ingredients.